Pharynx
The pharynx, commonly called the throat, is a passageway that extends from the base of the skull to the level of the sixth cervical vertebra. It serves both the respiratory and digestive systems by receiving air from the nasal cavity and air, food, and water from the oral cavity. Inferiorly, it opens into the larynx and esophagus. The pharynx is divided into three regions according to location: the nasopharynx, the oropharynx, and the laryngopharynx (hypopharynx).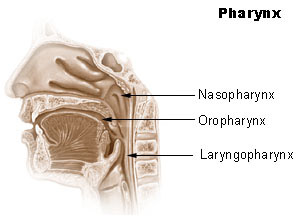 The nasopharynx is the portion of the pharynx that is posterior to the nasal cavity and extends inferiorly to the uvula. The oropharynx is the portion of the pharynx that is posterior to the oral cavity. The most inferior portion of the pharynx is the laryngopharynx that extends from the hyoid bone down to the lower margin of the larynx.
The upper part of the pharynx (throat) lets only air pass through. Lower parts permit air, foods, and fluids to pass.
The pharyngeal, palatine, and lingual tonsils are located in the pharynx. They are also called Waldereyer's Ring.
The retromolar trigone is the small area behind the wisdom teeth.